With quite a few public holidays and long weekends coming up, what better way to spend your day off with loved ones than planning a trip across the causeway? We've come up with a list of things you can do with your family for a fun-filled Johor Bahru 2D1N trip. Rest assured that everyone will leave this city feeling refreshed and satisfied.
One can never have too much of enjoyment in Johor Bahru. Whether it is the weekend, or on a public holiday, many of us find ourselves wanting to escape the hectic city life and head to Johor Bahru for some fun and relaxation.
Johor Bahru 2D1N Trip
Accommodation
Credits: Booking.com
Amari Hotel
Credits: Booking.com
Holiday Villa
Credits: Booking.com
Before you begin planning your itinerary, you may want to ensure that you have a good place to spend the night at. There are many hotels available in Johor Bahru depending on your budget and requirements. Some highly recommended hotels include Doubletree by Hilton, Amari Hotel and Holiday Villa. Services at these hotels are considered one of the best in Johor Bahru and they are all located at locations which are convenient for guests to get around. Rates for these hotels range between SGD177 – SGD193/night.
Transport

A 2 day 1 night trip almost always means that your itinerary will be filled to the brim with visiting different places. The best way to get around is by driving. Driving to Johor Bahru on your own gives you the flexibility to control the time spent at every location without worries. Alternatively, if you do not like the hassle of looking up road directions on your GPS, or just want to relax while being chauffeured to your destination, then you may opt to hire private transport services from a transport company in Singapore. Transport companies like Johor Transport provides transportation to all areas in Johor Bahru, and even further up north to Melaka. Customers can also provide the transport company with their own itinerary and desired destination.
The Trip – Day 1
Dim sum for breakfast
Credits: http://www.thejulietmike.com/2017/04/17/14hours-in-jb-eat-eat-eat/

If you are planning to maximize all the time you spend in Johor Bahru to the fullest, then you may want to start out early to grab the best dim sum for breakfast. Restoran Kak Kak serves steaming hot dim sum from 5am till 11am, but the best dishes are usually wiped up by 9.30am. Travelling in to Johor Bahru at an earlier time also means that you won't need to spend hours being stuck in the jam along the causeway, so it's another reason to be early!
Shopping at Tebrau City
Credits: TripAdvisor
With a full heart and stomach, you are now ready to begin your adventure. Let's begin with a little walking to burn some calories from breakfast while you do some shopping at AEON Tebrau City. AEON Tebrau City is known to be one of the best and most popular shopping malls in Johor Bahru.
Spiced Mala Hotpot (Mala Xiang Guo) for Lunch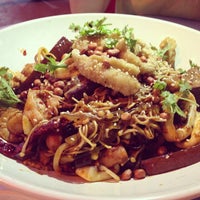 Credits: https://foursquare.com/v/spiced-mala-hotpot
When you're done with the buying, head on out to Taman Mount Austin for lunch.  One delicacy that we can never get enough of is the Mala Xiang Guo where a variety of vegetables and meat are stir-fried in spicy numbing gravy that allows you to savour your ultimate taste buds. Diners can choose from the range of non-spicy to extra-spicy depending on their preferences.
Dessert – Dessert Library
After the spicy meal, you definitely need something to cool you down from the sweltering heat. Dessert Library located just a few shops before Spiced Mala Hotpot and it's the perfect place to grab something for that sweet tooth on a sunny day. Try out the Onde-onde dessert. It is a blend of snow ice, shaved coconut and glutinous balls concocted to taste just like the traditional Nyonya kueh. This item is not in the menu. Ask the staff for it and they will gladly give you the code to write in your order sheet.
A walk in the park – Merdeka Gardens(Taman Merdeka)
Credits: http://eyesofacitymouse.blogspot.com/2013/02/TamanMerdeka.JohorBahru.html
Have you heard of Merdeka Gardens / Taman Merdeka? If not, then you're in for a treat. It's actually a park where many people frequent for their morning and evening exercises. The area is huge so it is also a great place for evening walks with your loved ones.
If the weather isn't too sunny, take a stroll in Merdeka Gardens whilst enjoying the company of your companion, and should you need a place to take a break, look for a quaint little café called Little Earthku Tearoom. This garden café is the best way to be close to nature while having your afternoon tea. All cakes and pastries are homemade and the menu varies on different days. We've heard that the quiche is quite a popular item amongst the regulars there! Not only that, the coffee and tea on their menu are also imported so there is indeed no place more unique to enjoy a warm cup of tea on this trip.
Credits: TripAdvisor
What's a Johor Bahru trip without loads of shopping? Head on down to KSL mall for some shopping time before dinner. KSL Mall is filled with bargains like phone accessories and cases, clothing, shoes, bags and possibly everything you need.
Seafood dinner at Restoran KIMDO
Credits: http://milkfrost.blogspot.com/2016/05/jb-getaway-with-colleagues.html
After all the shopping, it would be nice to fill your growling tummies with some fresh and yummy seafood. Restoran KIMDO is just 10 minutes away from KSL mall and the seafood is one of the best in town. Try the salted egg crab with hot steamed buns. You won't be disappointed. Apart from seafood, this restaurant also serves a variety of barbequed items like squid, vegetable, tofu, meat and chicken liver. If you are a fan of barbeques, this is one place you should try.
Winding down at Friendscino
Credits: https://www.isaactan.net/2011/04/friendscino-restaurant-and-bar.html
A long day traveling up and down may wear you out, and there's nothing better than winding down your evening with some live music, live soccer match and a good mug of beer at Friendscino. The food and snacks are great to be shared out in a group. After a good few rounds of beer, it is then time to retire and catch some rest for the next day's adventure.
The trip – Day 2
Breakfast at Tebrau Market
Credits:  http://cavinteo.blogspot.com/2013/11/hiang-kee-seafood-restaurant-taman-sri.html
Craving for some local breakfast? Head on down to the food centre next to the market at Taman Sri Tebrau. The market is just beside Shell petrol station so it is hard to miss. There are varieties of food here from Malay to Indian and Chinese breakfast. We suggest ordering a small portion of everything to try out if you are unsure of what you would like to have.
Jalan Tan Hiok Nee & Jalan Dhoby
Credits: http://johorkaki.blogspot.com/2013/06/old-jb-town-heritage-food-trail-at.html
With a full heart and tummy, why not take a leisurely stroll at these two popular heritage streets in the town area of Johor Bahru? Jalan Tan Hiok Nee and Jalan Dhoby are famous for the old buildings dating back to pre-war years. Along these streets you will also see Hiap Joo Bakery, which is known for its deliciously moist banana cake and coconut buns. Pack some for the journey back home later or as souvenirs for family and friends back home.
Lunch at Vietnamese café – Chimmy Chummy
Before you head home, it's time again to fill your tummy at the last stop. Chimmy Chummy is a family-run, quaint little café located at Taman Pelangi. Almost all the items on their menu are amazingly good and authentic. We'd recommend the Pho, Banh Mi as well as the Vietnamese Spring Roll, but you can try out other dishes as well and let us know which ones you like best! Remember to try the Vietnamese coffee too. It's almost as good as what we've had in Vietnam.
With a packed itinerary, your 2 day 1 night trip to Johor Bahru is bound to be a fruitful and eventful one. Do share with us if you come across other interesting places!